Canon har sluppet sitt første speilløse Kamera, i det nye «R systemet»
Nå er kampen i gang. Sony har forspranget, Nikon kom med 2 kameraer, og nå Canon..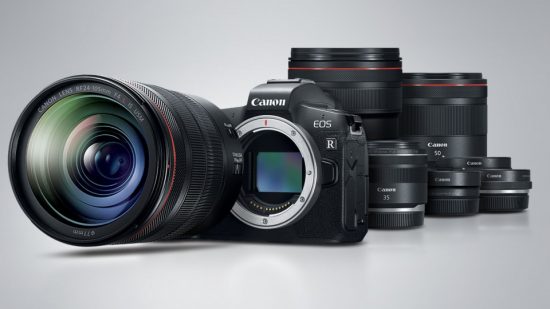 Building on over three decades of continuous Canon EOS innovation, Canon's full-frame mirrorless EOS R system has arrived, bringing greater creative possibilities and redefining future frontiers of photography and filmmaking.
The EOS R body, four lenses and a trio of EF and EF-S adapters – the first lenses and accessories in the EOS R range – combine to bring you the ultimate shooting experience, with performance and quality at their core.
The Canon EOS R has a full-frame 36 x 24mm 30.3MP sensor with Dual Pixel Raw. It also features Canon's Dual Pixel CMOS AF – technology that provides high-performance fast and accurate autofocus, even in previously prohibitive low light for photographers and filmmakers.
The EOS R lens mount is at the heart of the EOS R system. Three decades of EOS innovation has evolved into the creation of this mount with 12 contacts, providing more power to lenses and enabling the camera and lens to communicate 10 times faster. The result is the world's fastest AF for a full-frame mirrorless camera.
«For a long time I've been looking for a smaller, more innocuous camera for some of the more investigative stories that I do,» says Canon Ambassador Brent Stirton, who spent five days travelling more than 700km across Namibia to document the lives of the Himba, Herero and San tribes with the EOS R system. Maintaining colour fidelity, battery life and a familiar menu system, but adding silence, accuracy and speed, Brent found he could shoot in more situations than ever before.
"This new system offered me some of the best low-light performance I've ever seen from a Canon camera,» Brent says, and «the images seem sharper somehow, a little more three-dimensional.»
With a breakthrough design, the mount features short back focus and the widest lens throat of any 35mm system, enabling advances in lens design and performance. Between them the Canon RF 50mm f/1.2L USM, Canon RF 24-105MM F/4L IS USM, Canon RF 28-70MM F/2L USM and Canon RF 35mm f/1.8 IS Macro STM lenses offer photographers and filmmakers smoother, faster, silent focusing, customisation with on-lens control rings and new levels of image stabilisation.
Se mer her: https://www.canon-europe.com/pro/news/eos-r-system-launch/